Harnessing the Diversity of Mother Nature!
Since the end of the Golden Era of Drug Discovery at the end of the 1980's, no new antibiotic compound classes have entered the pharmaceutical pipeline, despite many attempts. This is a period in the history of antibiotics known as the Discovery Void. A lack of new agents with novel chemistry and mechanisms of action further exacerbate the issue of the rising frequency of AMR.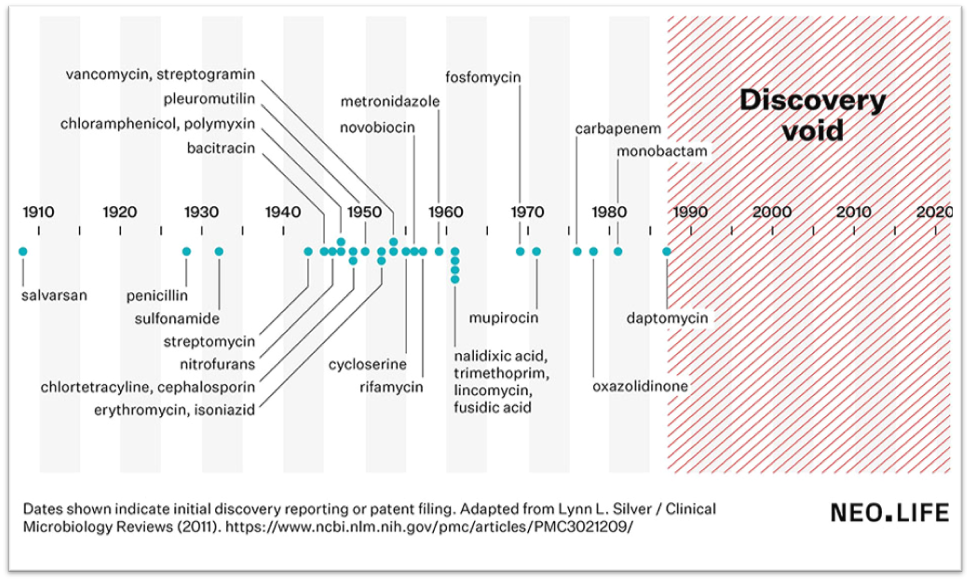 Overcoming this void of new potential agents entering the drug development sphere is a critical aspect of addressing the problem of AMR at a global, but also regional, scale. And the environment offers significant untapped potential in which to explore for novel chemistries, and undescribed Natural Products (NPs).
The origin of antibiotics is closely tied to NPs, as many antibiotics are derived from compounds produced by plants, animals, and microorganisms, such as fungi and bacteria. Natural Products have been widely used in traditional medicine, critical in the development of pharmaceuticals, agrochemicals, and other agents for industrial applications. Of the currently classified none compound classes, six are derived from NPs. Also known as secondary metabolites, these are chemical compounds or substances produced by living organisms in response to environmental stressors to give them a competitive advantage, and produced as part of the organisms' defense mechanisms to inhibit the growth of competing microbes in their environment or survive environmental change.
What makes these NPs so special is that, over time, evolution has carefully honed the activity of these compounds to perform their tasks, offering an unprecedented starting point for discovery of novel chemistries and mechanisms of action. Exploring novel NPs in underexplored environments is a promising avenue for discovering unique compounds with potential applications in medicine, agriculture, and other industries.
One unique and underexplored environment with great potential is the ocean - investigating the biochemistries of marine invertebrates and microorganisms has yielded great success in hits to lead drug discovery efforts. Watch: Prof Mathew Upton of the University of Plymouth discuss in this TEDx talk about his work in exploring novel chemistries in "deep, dark and wonderous places".