Dr Alexandros Polyzois of Rhodes University shares his experience attending the ASP Annual Meeting, entitled "Natural Product Solutions to Global Challenges" (23-28 July 2022).
This, the first in-person meeting after two years of absence due to COVID-19, was a great event for the scientific community, which brought together scientists from the field of Natural Product Chemistry. The meeting included a variety of subjects, including Chemical Ecology, Natural Product Synthesis, and Bioinformatics and New Methodologies, with a strong focus on Natural Products Discovery to combat the current SARS-CoV2 pandemic. For the first time, the meeting included a section specific to the research progress and advancements in the African region, under the session "Natural Products Investigations Around the World: Africa". In this session, Dr Alexandros Polyzois, a postdoctoral fellow in the Dorrington Lab (RU), presented a multi-omic approach to studying stromatolites, highlighting the effect of environmental conditions along the Eastern Cape coast on the microbialite chemical and microbial profiles.
Prof Rosemary Dorrington also presented an overview of the SA/UK ADD Hub Project, and our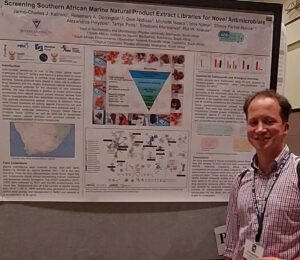 work in antimicrobial drug discovery from marine NPs. The poster depicted an infographic workflow of the process followed to retrieve purified compounds from marine specimens. Crude chemical profiles of more than 750 sponges, soft corals, and ascidians were analyzed by molecular networking based on their LC-MS/MS profiles, and four main chemical families were annotated (variabilins, rhizochalins, pyrroloiminoquinones and topsentins) which successfully inhibited the growth of E. coli and S. aureus. 
Overall, the meeting included more than 300 oral and poster presentations, while hundreds of researchers came together to exchange information, ideas and their passion for science, returning to their labs inspired and with valuable feedback.